最新TATTOO
New Product
Other Tattoo

続きを見る
TATTOO
Profile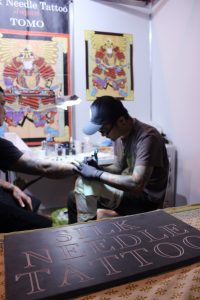 Silk Needle Tattoo TOMO
Was born in May, 1975 in Nagaoka, Niigata Prefecture.After graduated from Niigata Design School, studied tattoo on his own.
-Opened his own tattoo studio in Niigata in 2002.
-Worked as an apprentice in Yellow Blaze in 2009.
-Opened his own tattoo studio "Silk Needle Tattoo" in hometown Nagaoka in 2015.
My Philosophy
Any style can be expressed by boundless ways, but I think among all of them, Japanese Tattoo, as what I do best,
it's very inspirational because it comes from Japanese traditional culture and customs.
Being fascinated by this traditional art I hope to express my philosophy deeply through it.
スポンサー

CONVENTION